Hello and welcome to my web site! Here you will find a listing of my books, a synopsis of each, and reviews which should aid you in selecting which you will want to read first! Also you will notice there are direct links to the sites where you can actually part with some of your hard-earned money to buy any or all of them! You can also learn more than you probably want to know about me, but there it is!
Have a look about and enjoy! Should you feel moved to, let me know what you think of the site, the books, or maritime history. Just click "Contact Bill White," right below that handsome chap there on the left! Thanks for stopping by. MORE

My new book In Hostile Waters - The Cruise of USS Argus
is now available!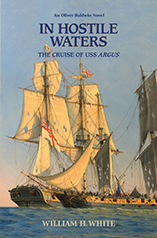 In 1813, United States Brig of War, Argus, commanded by W. Henry Allen, was tasked with carrying the U.S. Minister to France. Following the safe delivery of the minister, Argus was ordered to sail into British waters and become a commerce raider for as long as possible. Obviously, an open ended commission and one inherently perilous. Oliver Baldwin (The Greater the Honor, In Pursuit of Glory) sails as 1st Lieutenant. Edward Ballantyne (When Fortune Frowns, Gun Bay) commands the British ship sent to stop them. White's well-known style of intermingling real historical characters with a few fictitious ones makes for a riveting read and, at the same time, enables the reader to learn a bit about one of the most heroic and little-known naval events of the War of 1812.
BUY NOW in paperback or Kindle Edition at

. We are sure you will enjoy it!
Book Signings:

We will update this space with information on Mr. White's upcoming book signings as we learn of them.